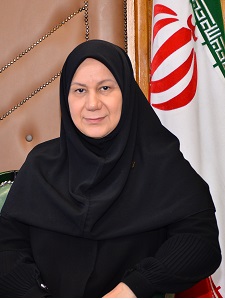 Marjan Faghih Nasiri, President
Marjan Faghih-Nasiri, Ph.D.
Dr. Faghih-Nasiri is the seventh President of the Institute for Trade Studies and Research (ITSR). Prior to taking on its leadership in 2017, she was Vice President for Research (2016), and Head of Economics and Competitiveness Studies Research Department (2014-2017) of ITSR. Before joining the ITSR, Ms. Faghih-Nasiri was Director General of the Office of Economic Studies in the Ministry of Industry, Mine and Trade between 2005 and 2014.
She earned her Ph.D. in economics at Allameh Tabatabai University in 2006, and actively conducts research in industry, mining, and trade-related fields. She has been the lead researcher in some 15 projects in such fields as targeted subsidies and economic sanctions.
She has also published a number of books, as well as more than ten articles in academically credible scientific journals. She was a faculty member at Payame Noor University, and currently gives lectures at a number of universities, including Allameh Tabataba'i University, Alzahra University, Payame Noor University, and Islamic Azad University. She also actively shares her insights and expertise at scientific conferences and academic fora.
Dr. Faghih-Nasiri has been and currently is an effective member of a number of high-ranking government committees and Councils, such as the Supreme Council of Stock Exchange.