Workshop on "WTO Accession" and "Industrial Policies"

---
"Our country's president traveled to Iran recently and during the visit, 90 contracts and MoUs were inked by the two countries in the fields of transportation, watershed management, energy exploration and financing projects to develop the bilateral ties," Dung Jo, an official at the South Korean embassy in Tehran, said.
He also announced South Korea's cultural center will also be set up in Iran next year.
Noting that Iran and South Korea enjoy the proper understanding of each others' positions, Dung stressed the necessity for the reinvigoration of bilateral ties through research centers and universities.
President Park arrived in Tehran on May 1 to hold talks and sign nearly a dozen cooperation agreements with high-ranking Iranian officials.
During the South Korean president's trip, Tehran and Seoul inked several MoUs in different fields, including energy.
The Korean president was accompanied by 236 state and private sector officials and traders as well as 90 reporters and journalists.
Also, earlier this month, Tehran and Seoul signed several contracts on building very large and medium-sized oil tankers and vessels.
The agreements were signed between Islamic Republic of Iran Shipping Lines (IRISL) and Hyundai Heavy Industries Company.
Hyundai has agreed to build at least eight Ultra Large Container Vessels (ULCVs) and medium-range tankers for carrying petroleum products.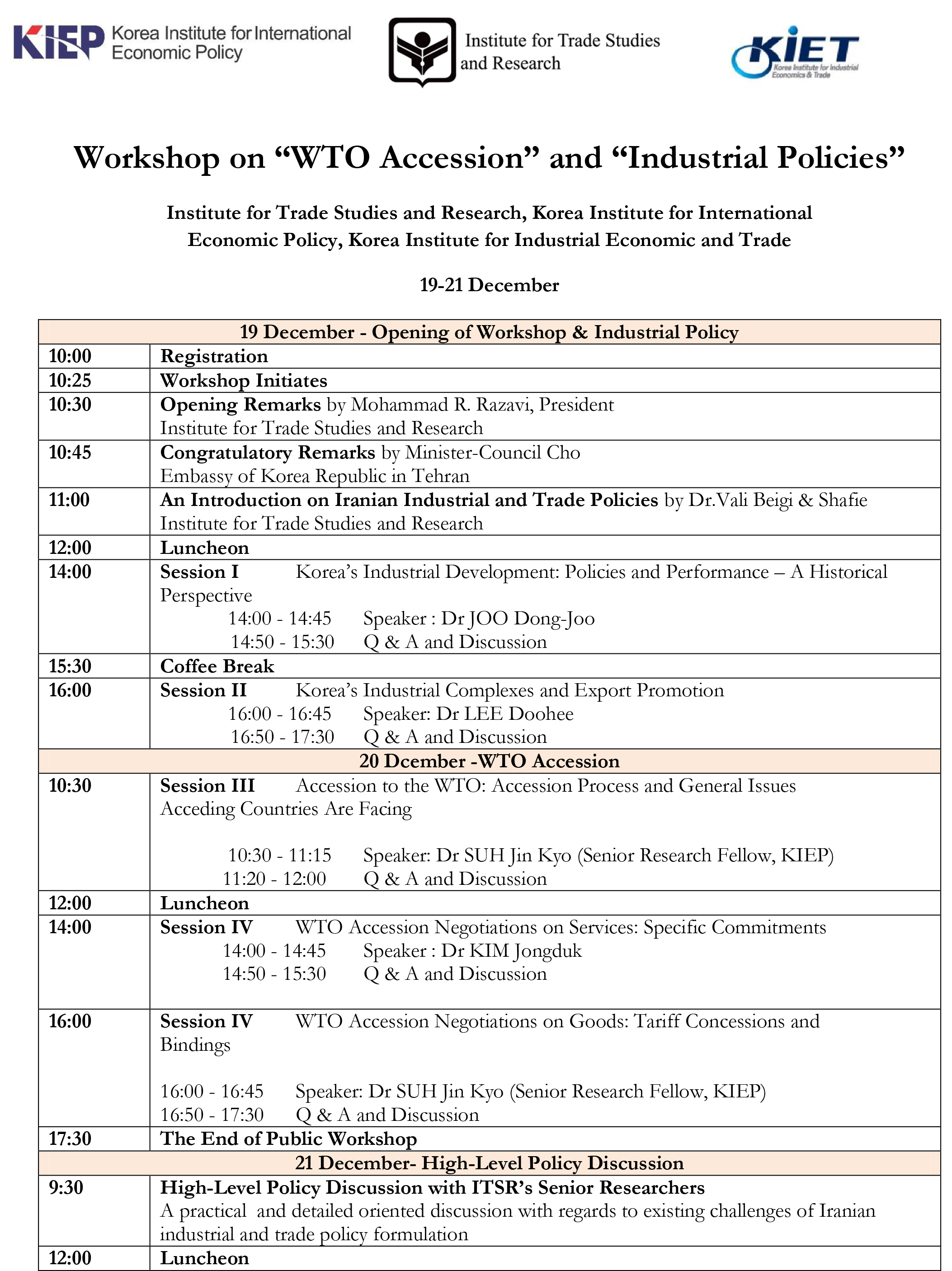 download presentation files
First day
Korean_Industrialization_from_immitation
Historic Perspective for Industrial Development of Korea
Current Status and Main Challenges of Trade Policy in Iran
Iran's Economy and the Role of Manufacturing: The necessity for comprehensive industrial policies
Second day
WTO Accession Negotiations on Goods_SUH_1215